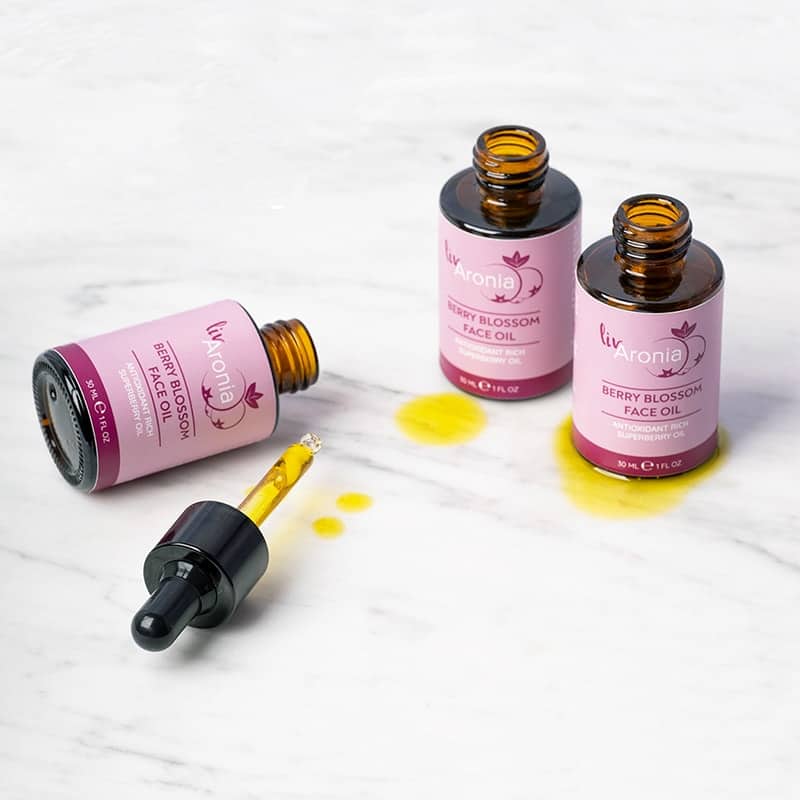 A 100% antioxidant elixir that combines the power of 6 cold-pressed superberry oils, rich in vitamins and omega fatty acids. Formulated for all skin types to deeply nourish, soothe and leave your skin hydrated for a healthy-looking glow. Created with pure plant oils, without synthetic fragrances and essential oils.
Aronia Berry
Rich in Vitamin C, B & K acts as an antioxidant in protecting the skin from environmental aggressors.
Blackberry
Rich in Vitamin C, it firms and strengthens the skin barrier.
Strawberry
Rich in Omega 3 fatty acids and Vitamin C it brightens and tones the skin.
Blueberry
Rich in Omega 3 fatty acids and Vitamin A it moisturises and helps reducing pigmentation.
Cranberry​
Rich in Omega 3 & 6 fatty acids and Vitamin E, it helps to increase the production of collagen and reduces the appearance of fine lines.
Raspberry​
Rich in Vitamin E and Ellagic Acid it protects the skin from the sun naturally.
LOVE this!
Seriously I'm impressed with the face oil. I mix it with my moisturizer in the morning and it leaves my skin feeling so much better than before. Just overall moisturized and glowy. I love it!
Great face oil
Got the oil for me and my Mom- we both love it!
The consistency is really nice, it doesn't give you a sticky feeling and the bottle will last a very long time.
My Mom has extremely sensitive skin and was looking for a long time for a product that wasn't irritating. She's very happy with the oil and uses it daily.
I love it as well, it gives a very nice glow and I can feel how good it is for my skin.
Also very important to me: it's cruelty free and vegan ❤️
Would definitely get it again!
Thankful I found this Oil
The best Face Oil ever and actually the only one wich doesn't give me any breakouts with my Acneskin. Happy that someone really is into it, to help people with skin issues. This oil really calms my skin down. I mix it every evening in my nightcream, so I can see the glow every morning. Thanks a lot @livaronia
Absolutely amazing!
This has done wonders for my skin. My skin is noticeably smoother, my face look so glowy and gorgeous. Highly recommended!
Not your usual oil...
Currently I've just finished my first bottle of the Berry Blossom Face Oil and I need to admit that my skin truly fell in love with it! Usually oils just make my skin feel greasy and sticky, but not in this case. The oil absorbs quite quickly into your skin and doesn't clog the pores. I find the oil very nourishing and soothing. Would 100% recommend! 💕